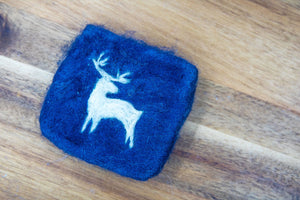 Hand felted one of a kind design
Felted soap gently exfoliates your skin eliminating the need for a loofah or  wash cloth.
Wool has natural antiseptic properties, so felted soap usually remains clean if it is allowed to dry properly after each use.
The covering around the soap helps prolong the life of the bar of soap.  making it last longer.
All Apothekerry soaps are made by hand in small batches using a premium blend of carefully and ethically sourced, oils and plant butters. 
ApotheKerry felted soap is unscented 
Ingredients: saponified olive oil, organic coconut oil, organic fair trade unrefined shea butter, sweet almond oil, castor oil,