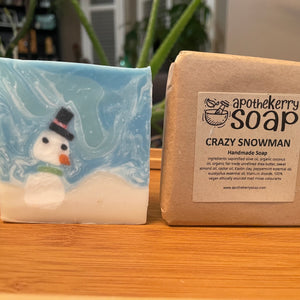 All Apothekerry soaps are made by hand in small batches using a premium blend of carefully and ethically sourced, oils and plant butters. 
This soap is made using a sculpted "soap dough" technique. The snowman is sculpted by hand as a bar and then inlayed into freshly mixed soap batter. It's impossible to know what it's going to look like so the snowman on each bar is slightly different but always fun and quirky.
Scented with peppermint and eucalyptus essential oils.
Ingredients: saponified olive oil, organic coconut oil, organic fair trade unrefined shea butter, sweet almond oil, castor oil, Kaolin clay, peppermint and eucalyptus essential oils, titanium dioxide, 100% vegan ethically sourced mad micas colourants